Love Trash Dove Meme Greeting Card (PLAYS SOUND)
---
💥 Fun surprise inside
💥 Over 2000 plays guaranteed 🔊🎶
💥 Makes a great gift 🎁
💥 Fast shipping ✈️🌍
💥 Guaranteed easy refunds & returns 👍
💥 Personalize it! 👇
Size: 7 inches x 5 inches
Sound: BUILD UP AND DROP OF FIRE TRAP BEAT
It's really hard to love people in this day in age, which is why our generation is so infatuated with memes. It's easier to cheat on internet sensations than people, which is why the world is blessed with a new dank meme every week. One that's hard to love but also impossible not to love is the purple bird known as Trash Dove. It serves no purpose, it just exists. We must love all of God's creations. Even the gorgeous weird shit that lives online. 
January 31st, 2017 was the date on which Florida artist Syd Weller's "Trash Doves" sticker set premiered on Facebook. The main star of the stick set is a large-eyed purple pigeon in various poses. The most distinct of these is the "headbanging pose" in which the pigeon is animated to bop it's head up and down.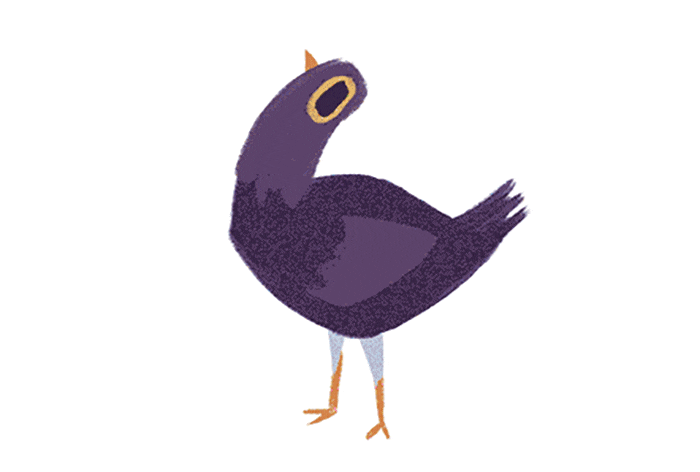 On February 7th, the trash dove went viral after a Facebook page สัตว์โลกอมตีน (Animals With Paws) posted a video in which the purple bird fuses with pelvic thrusting cat to a killer house music. 
The meme was quickly picked up the Thai media and then spilled over into the English speaking Facebook world which led to flood of spam comments featuring the headbanging sticker all over Facebook.
The song used in the original Thai video is actually "Uvuvwevwevwe Onyetenyevwe Ugwemubwem Ossas (MACHINA EDM Remix)." And yes, that's actually the name and it's the song that plays when the card is opened.