Jaden Smith Youngest Birthday Card (PLAYS SOUND)
---
💥 Fun surprise inside
💥 Over 2000 plays guaranteed 🔊🎶
💥 Makes a great gift 🎁
💥 Fast shipping ✈️🌍
💥 Guaranteed easy refunds & returns 👍
💥 Personalize it! 👇
Size: 7 inches x 5 inches
Sound: "You were once the youngest person in existence"
---
---
Background: As the birthdays begin to pile up, there might be times when we start wondering about the meaning of life. We might compare ourselves to our peers and get upset that we're not where they are, especially as you see friends get engaged or traveling the world on your Facebook feed. If you know someone in that funk, send them this card to have Jaden Smith remind them of their worth and achievements. There's no light at the end of the tunnel, only Jaden. 
Jaden Smith is an actor and rapper who is the son of actors Will Smith and Jada Pinkett Smith, and brother to Willow Smith. Smith's internet notoriety stems from his bizarre philosophical and poetic tweets for which he became famous for in November 2013.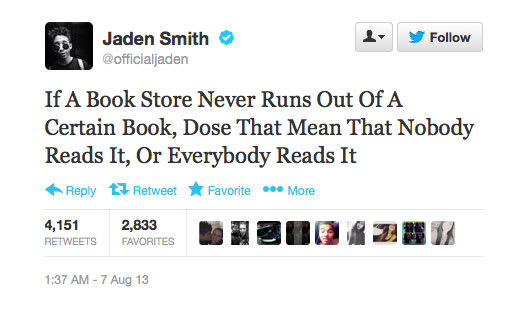 On March 1, 2017, Vanity Fair leveraged his fame and released a video featuring Jaden Smith titled "Jaden Smith Reads Mind-Blowing Facts About the Universe." It includes the sound clip in this card "You were once the youngest person in existence." The video became a viral hit and cemented Jaden Smith's status as an internet legend. 
This one's for the friend who's in search of life's meaning as they get older. Let Jaden Smith's meme worthy philosophies guide your life to eternal success.